It's been 5 months that I have moved from India to Singapore. I have adjusted well to the life style and work culture here in Singapore. Long time back I have written a similar blog regarding my life in Singapore. He I just want to tell what it is like living in here.
Shopping:
---------
This country is always on shopping spree and you will see people shopping on sunday midnight. I dont know where the money is coming from. Because clothing I have seen is very costly here when compared to India. Lot of shopping malls are available. There are lot of melas here. Lot of sales, almost every month there will be a end of season sale. I dont know which season are they referring to. But over all Singapore has been a Shoppers Paradise and it will be.
Transport:
----------
The transport here is in Trains, Buses and Taxis.
The train stations in Singapore are always crowded and the subway train system is very amateur when you compare with Deutschland or Britain. I am not sure if there are less trains here or the crowd is more with respect to the number of trains. I always see the trains crowded. Every 3 to 5 minutes you have a train. So Over all I would rate this as good transport system. I think the Mumbai local trains are more frequent and carry more number of people.
The buses are privatised and SBS transit is the company which runs them. They have both AC and Non-AC buses and the fares change depending on what kind of bus you are goin in. I feel the train system is far better than the bus system. Because for some of the buses we need to wait for more than 10 minutes. All the buses are Volvo and are very comfortable though they are also crowded.
Taxi is the last thing someone would like to get into here in Singapore. The other transport is very much accessible, so we dont really think about the taxis. The asians feel that the Taxis here are costly. But people who come from Europe or USA feel that the Taxis here are very very cheap. I am from the group who feel it is very costly.
Technology:
-----------
In terms of usage of technology, Singapore is obsessed with technology. You could get every new electronic gadgets at a very cheap price and may be it is because most of the goods here are coming from china and taiwan. Kids here are very much advanced in terms of technology when compared to an average engineering student in India. They play with PSPs and Laptops at the school level. The kids here are so much into using the Ipods or mp3 players that everybody in the train or bus would be seen with their ear phones ON. I have seen people here whose hands work like a machine when typing an sms in the mobile. Finally I can say the we have to grow a lot in India atleast in using the technology.
Religions and Race:
-------------------
Multi ethinicity is onething which you would admire in Singapore. You could see a chinese temple and Hindu temple and a mosque in the same street.Sometimes it look a bit absurd but it adds a flavor to Singapore culture. There are Chinese Malays and Indians whom you can see in Large numbers. The next number would be more of Indonesians. The best part an Indian is Singapore give holidays for Diwali, MOharram and Good friday. So they have equal respect to all the religions.
Food Habits:
------------
Food is onething which I have to talk abt when it comes to singapore. Singapore has food courts everywhere and you will find these multi cuisine food courts arranged in a stylish fashion throughout Singapore. I like to eat there but somehow i am eating only Indian. I have also tasted Thai food which is very much near to Indian food. You can find McDonalds and KFC in every community place. So food is available round the clock.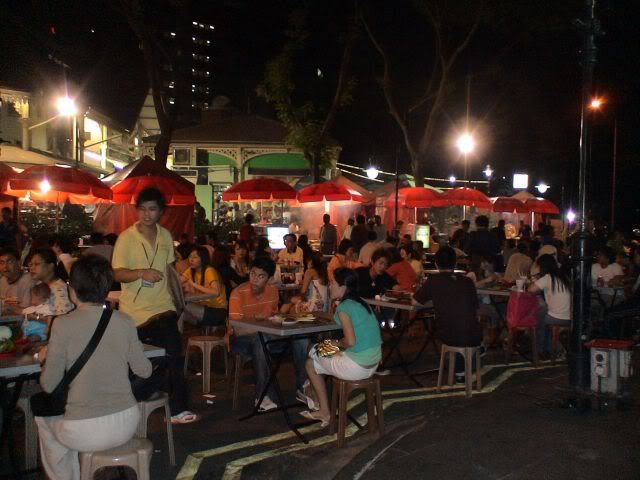 Holidaying in Singapore:
------------------------
There are some lovely beaches around and spending your leisure time in Singapore is far more easier than in Europe. In europe holidays are seasonal but singaporeans enjoy every weekend like a holiday!
I shall write some more about the places around singapore very soon.